Outreach – Needle Arts at Lord of Life
Knitting and Crochet
Stitches of Love
Knitting and Crochet prayer blankets, toys and preemie hats every Saturday at 9:30 in rm. 23 upstairs. Confirm times with Judy Frappier cell 936-443-0678 or judyannefrappier@gmail.com. On
Facebook at LOL Stitches of Love.
Sewing/Quilting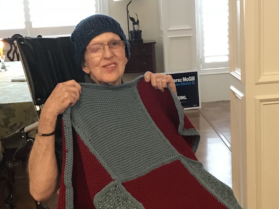 Prayers and Squares
2nd Tuesday at 9:30AM in the library. To commission a prayer quilt or sign up contact Francine Atkinson frangram41@hotmail.com or 281-367-4518.
This month: Feb. 12
Sewing/Quilting
Ruth Ann's Remnants
Make quilts to send around the world for Lutheran World Relief. 2nd and 3rd Thurdays at 9:30am Room 25 upstairs.
This month: February 12 & 19