Race & Culture Book Study
Were you raised to talk about race openly, or was it a taboo topic? How can we think about race from a Biblical, godly perspective – either individually or as a church family?
No matter your background or personal experience, join us for a book discussion on Race and Culture led by Nicole Puig-Herz. Pastor Gary will speak on Biblical insights.
Come with an open mind and heart, and be ready to learn from each other and the readings. Our first meeting will be Thursday, October 18, at 9:00 a.m. in the conference room. For more information, text 607-379-2661 or email puigherz@gmail.com.
The Color of Water: A Black Man's Tribute to His White Mother
by James McBride
Over two years on the New York Times Best Seller List.
As a boy in Brooklyn's Red Hook projects, James McBride knew his mother was different, but when he asked about it she'd simply say," I'm light skinned." When James asked," What color God was, she said," God is the color of water."
Waking Up White: Finding Myself in the Story of Race
by Debby Irving
For twenty-five years, Debby Irving sensed inexplicable racial tensions in her personal and professional relationships. As a colleague and neighbor, she worried about offending people she dearly wanted to befriend. As an arts administrator, she didn't understand why her diversity efforts lacked traction. As a teacher, she found her best efforts to reach out to students and families of color left her wondering what she was missing.
I'm Still Here: Black Dignity in a World Made for Whiteness
by Austin Channing Brown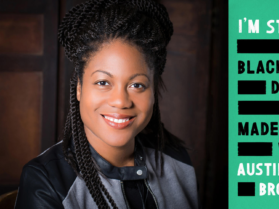 Austin Channing Brown's first encounter with a racialized America came at age 7, when she discovered her parents named her Austin to deceive future employers into thinking she was a white man. Growing up in majority-white schools, organizations, and churches, Austin writes, "I had to learn what it means to love blackness," a journey that led to a lifetime spent navigating America's racial divide as a writer, speaker and expert who helps organizations practice genuine inclusion.