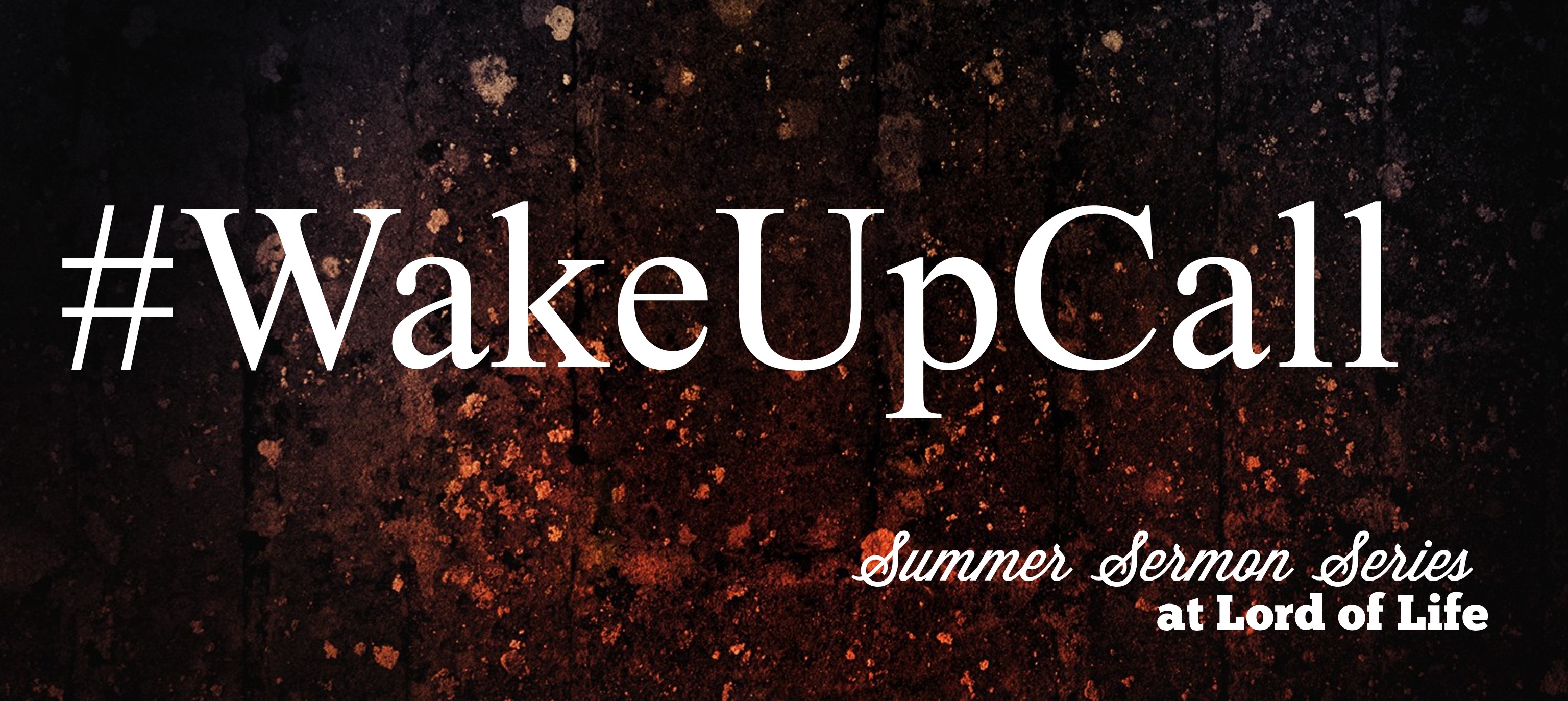 Summer Worship Series 2018
June 3-July 8
#WakeupCall.
Starting June 3, we'll be examining Paul's second letter to the Corinthians and we will quickly see that Paul is writing because the Corinthians need a wakeup call. They had the experience that changed everything for them but all too quickly they start back sliding into the behaviors that ruled their lives before they formed the church in Corinth.
Each week will come with opportunities for families, kids, and adults to use social media to share how they are experiencing a wakeup call in their faith. We hope this will be a series that connects with all ages and can become an easy entry point for you to invite friends and neighbors to join in the fun.
As we make our plans for the summer months, we also know that you have a lot of choices about how you spend your summer. Vacations, sports, and camps pull at every hour of every day. Many of us still have full time jobs on top of it all. Your time is precious. Your time with family and friends is a commodity that you should not waste.
So, as you make your plans for these months, it is my great hope that you continue to make worship and life together at Lord of Life a priority for your time. Time spent here is not a waste. These precious hours and moments that we share together are an opportunity to rest from the challenges we face every day. This building is a place to be renewed in your strength and your courage. These relationships will encourage your spirit and challenge your growth. Here we will commune with God, one another, and the saints across time and space. These are moments you do not want to miss.
It's easy to fall out of the habit of regular worship. When weeks are packed and Sundays are maybe the only chance
we get to be together as a family, the temptation is heavy to simply stay put. And let's face it, Lord of Life is always going to welcome you in with open arms whether it's been a week or five years since we last saw you because that is exactly what we believe God does for each of us. But the easy path is rarely the path that grows our faith, challenges our children, and builds a meaningful connection with God.
So come and worship with us. Come to summer camps and Bible studies. Come to dinners and celebration. Come to get a #WakeupCall. Just come. Your time and your moments are precious and I promise they will not be wasted here.
We might find ourselves focused on the persecution, focused on the struggles and frustrations and anger of this life. But we aren't abandoned. In fact, we are precious treasures that have been placed inside a clay jar. Our wakeup call reminds us that God does not abandon us and considers us a priceless treasure.
June 10, 2018 – 2 Cor. 4:13-5:1: #WakeupCall #Unseen
"Fix our eyes on what is unseen" – The best part of any pirate movie is when the sailor in the crow's nest calls out "Land Ho!" The job of the sailor in the crow's nest? Constantly fix their eyes on what no one else can see. Stare at the horizon – into what sometimes seems like nothingness – and trust that eventually a path would be revealed. We need a wakeup call so we don't get discouraged, even when we can't see the destination.
June 17, 2018 – 2 Cor. 5:6-17: #WakeupCall #NewCreation
"We are a New Creation" – You are not the same as you once were. But old habits die hard and we fall back into our first selves. The Corinthians were dealing with the same issues. How do we let the change take hold? How do we move ourselves beyond our old habits that led to death? How do we live into our new creation to be led to life?
June 24, 2018 – 2 Cor. 8:7-15: #WakeupCall #LiveGenerously
Paul comes right out to the Corinthians with a clear message, "You were the first to give. Now finish the work!" What does it look like for us to live generous lives with our money? What does it take for us to finish the work of giving? How we spend our money demonstrates what is important to us. Paul gives us a wakeup call. Let's finish this work of living generously together!
July 1, 2018 – 2 Cor. 6:1-13: #WakeupCall #NowistheTime
Paul wants the message of Jesus Christ to spread out into the world. Our job is to remove the obstacles. Now is the time for us to share the Gospel. Now is the time for us to demonstrate our faith. Now is the time to know our own salvation. Paul says we will all have the troubles of this world, "afflictions, hardships, calamities, beatings, imprisonments, riots, labors, sleepless nights, [and] hunger" (2 Cor. 6:4b-5). #Wakeup and hear the message of salvation, but remember that we are not yet free from the pain of this world.
July 8, 2018 – 2 Cor. 12:2-10: #WakeupCall #Sufficient Grace
Do we believe that God's grace is sufficient? If God's grace is enough, it doesn't matter if we live or die. It doesn't matter if our loved ones live or die. If we believe God's grace is sufficient, we will be taken care of no matter what we face. Wakeup!