The following nominees have been elected to three-year terms on the Congregation Council:

Evan Earnest,

Shellie Hermann,

Ed Spaulding,

Karoline Strauss.
Thank you to all of you who participated in the voting process. A special thank you, also, to all of our nominees who prayerfully considered submitting their names for these positions.
Outgoing Council members:
Billy Forrester, Stacey Kreitz,
Family
Jocelyn Earnest-Heckler (wife)Children: Ayda (9), Cora (6), Rose (4), Margot (1)

Occupation:
Research Geologist – Chevron
How long have you been a member of Lord of Life?
7 Years
At Lord of Life I am active in adult faith formation classes and volunteering to support the pig roast and children's faith formation.
I believe I can offer the following as a council member:
As a member of Lord of Life I have sought opportunities to serve the church and community in a way that is impactful, inclusive and true to the theology of ELCA. I believe that serving on the church council is such an opportunity. I believe that we must fulfill our church mission statement through faith formation, outreach, and ministries. I am passionate about finding ways to be welcoming and inclusive of all demographics, and providing opportunities for LOL members to grow their community both within and outside of the church. I believe that LOL should challenge our members to grow in their faith and not be an echo chamber. In joining the church council I bring representation of a demographic of young to middle aged men that are seeking opportunities to be involved in our church and learn from our leadership and fellow parishioners. I am interested in becoming more familiar with the inner workings of the church in order to support our mission statement, financial health, and ministries. Personally, I am passionate about the intersection of quantum physics and christianity, christian apologetics, building a home and community for my children around grace and love, and learning to walk in the footsteps of our Lord and Savior, Jesus Christ.
Family
Christopher Herman is my husband of almost 25 years. We have one fantastic daughter, Adelaide Herman, who now attends Williams College in Massachusetts. My mother, Jan Tyrrell, has also been a member of LOL for 13 years.
Occupation:
I have been the Recruiting Manager of Volunteers for CASA Child Advocates of Montgomery County for five years and counting. We advocate for children in the foster care system.
How long have you been a member of Lord of Life?Since 2009, soon after we moved to The Woodlands.
How have you served?
I have taught Sunday School here at LOL. I have been a Volunteer Advocate for CASA Child Advocates for 5 1/2 years now. I served many volunteer positions at my daughter's school throughout the years and I am currently a board member of my HOA as well.
Why do you want to be a council member?
Together with input from our congregation members, I would like to find innovative ways to engage our community and grow LOL. Getting the word out of the incredible assets and support that this church has to offer would certainly be one of my main objectives as a council member.
Family
Anne, my wife of 31 years; and three adult children, Alexander, Olivia and Emily.
Occupation:
I am retired following a 37-year career with Chevron. At Chevron I did engineering, operations, and management.
How long have you been a member of Lord of Life?
We became members of Lord of Life in 2005, about 16 years.
How have you served?
Chair of a Lord of Life associate pastor search committee some years ago
Chair of the Lord of Life Mission/Vision team which created the immediate past Lord of Life Mission/Vision statement
Initial chair of the recently-completed Lord of Life Capital Campaign, where a team developed the scope of work and cost estimates, surveyed the congregation, secured Council approval, and secured Congregational approval via a vote at an Annual Meeting
Member, Board of Directors, Lutherhill Ministries, and immediate past President of the Board (I will reach my term limit and will exit that board in May 2022.)
Member, President's Advisory Council, Lutheran World Relief
Why do you want to be a council member?
I view board memberships as both offering and learning opportunities. What I offer is experience working on teams to accomplish objectives, as well as over a decade-and-a-half of membership at Lord of Life.
From the learning perspective, being on Council will help me to better understand how Lord of Life is operated, how budgets are developed and managed, and importantly, how faith intersects with the realities of running a church.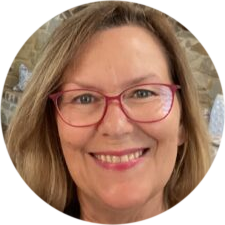 Family
My husband, Robert Strauss. We also have 6 adult children and 16 grandchildren
Occupation:
I am a Certified Business Performance Advisor (CBPA) and have been employed by Insperity, a Human Capital Consulting Firm, for 17 years. I specialize in delivering a strategic approach to Human Capital to help drive profitability, limit liabilities, and contain costs in healthcare and ancillary benefits for small and midsized companies.

How long have you been a member of Lord of Life?
My husband Robert and I started attending services in January 2020 and became official members of Lord of Life on October 11, 2020.
At Lord of Life, I served on the Senior Pastor Call Committee. During this time, I learned much about Lord of Life's Mission, Vision and Values and worked together with my fellow committee members in completing the Ministry Site Profile, completing a congregational survey, conducting several interviews, and ultimately presenting our candidate to church council. I attend weekly worship as well as the weekly Pastor Bible study. In previous congregations, I have served children's Sunday school and VBS.
Why do you want to be a council member?Sometime in 2019, I picked up a book titled Martin Luther – the man who rediscovered God and changed the world, written by Eric Metaxas. Reading about the whole of Luther's life, caused me to reexamine my own and ultimately brought me back to my Lutheran roots. I felt the call to serve Lord of Life in whatever capacity God see fits, and after prayerful consideration, decided to also submit my name for consideration to church council. My work experience has provided me the ability to evaluate, discuss, suggest, and enact solutions. If my abilities can be of use, then I wish to serve and assist our congregation, with God's help, in fulfilling our mission. I believe that the people of Lord of Life have had a phenomenal impact on the communities we serve, and I am excited to be part of the continuation of all we can do through the love of Christ.
About me: I was born and grew up in Germany and was baptized into the Lutheran church as an infant. I attended the Lutherkirche in Rüsselsheim and later immigrated to the United States as a young adult. I met my husband, Robert, in Houston and we made our home in the Woodlands. Together, we have 6 children and 16 grandchildren. In January 2020, Robert and I started attending services at Lord of Life Lutheran Church and felt welcomed and embraced. The spirit of love and joy, and the openness and acceptance for all to come to the Altar impressed us, and we felt the call to return. After connecting with Pastor Gary and Pastor David, we joined the congregation and became official members in October 2020. I am looking forward to serving on Church Council with God's help, seeking His will through prayer and scripture and the Holy Spirit.