Advent 2018
Small Dancing Light
Advent is the season of waiting.
The rituals of Advent are reminders that in the midst of winter darkness, new light will dawn. New light of hope, new light of peace, new light of joy, new light of love – new light of Christ.
Advent walks from Thanksgiving to Christmas. A light dawns: small, struggling, determined. Advent progressively sharpens focus, revealing that the far-off waving and kicking of the baby's arms and legs in Bethlehem's manger are the early dance steps of unconfined redemption.
Every hope we have, every promise we hang on to, all anticipation that overcomes anxiety, each one is a small dancing light on the dark
horizon.
Always know that something or someone is coming and that the coming will forever change your life as you now know it. That truth contributes to the importance of these words: "The Lord is with you…and also with you." Amen.
Sundays at 8:20, 9:45 & 11:05am
Dec. 2: DAWN DRAWS NEAR

Dec. 9: HOPE SEES SALVATION

Dec. 16: JOY PROCLAIMS GOOD NEWS Small Dancing Light Cantata (all worship times)

Dec. 23: PEACE IS PROMISES KEPT
Join us every Wednesday during Advent at 7pm.
Cookies and cocoa to follow.
Nov. 28: DAWN

Dec. 5: HOPE

Dec. 12: JOY

Dec. 19: PEACE
All are welcome!
Lord of Life Lutheran Church,
3801 S. Panther Creek Drive, The Woodlands TX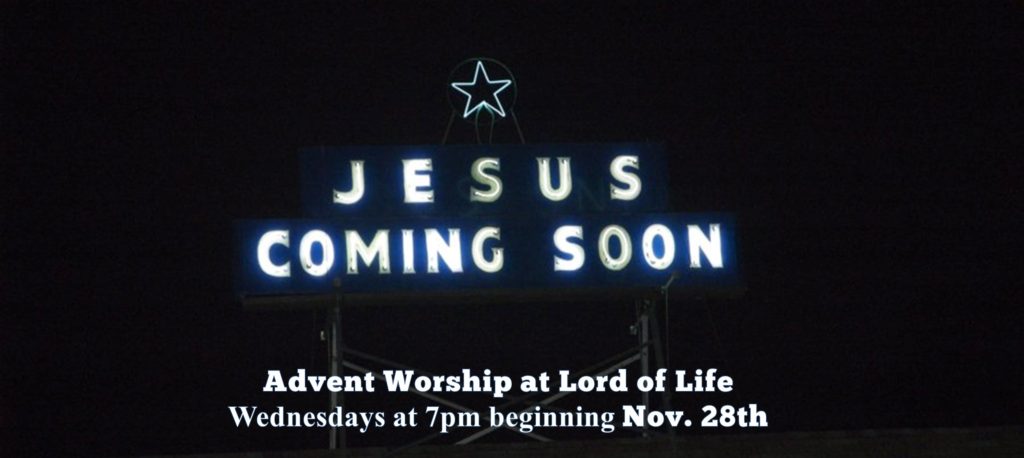 Deck the Halls:
Help decorate the church and Welcome Center for Advent/Christmas. Dinner and kid
activities available. Saturday, Dec. 1 (4pm)
Advent Candles and Wreath: Each week, beginning on December 2, we light a candle to mark our journey toward the birth of Jesus in Bethlehem over 2,000 years ago and in our hearts anew each day.
Faith-full Families Advent Dinner:
Advent crafts, bible study and dinner, Sunday, Dec. 2 (4:30 pm)
Fundraiser Breakfast:
Benefitting the senior citizens at Harvestwood through a free-will offering. Sponsored by Lord of Life's Men's Bible Study. Sunday, Dec. 9 during worship (9:30-12:30pm)
Harvestwood Christmas Party:
Bring holiday cheer, gifts and song to senior citizens at Harvestwood Apartments,
Saturday, Dec. 15 (2 pm).
Small Dancing Light: Cantata
All three worship times: 8:20, 9:45 and 11:05am. Sunday, Dec. 16
Service of Remembrance:
Bring your grief, your loss, your pain to Christ and receive consolation and anointing for healing. Sunday, Dec. 16 at 6pm
Christmas Eve Worship Services Monday, Dec. 24
Family Worship 4 pm featuring Children of Lord of Life

Jazz Worship

6 pm featuring the Lord of Life Jazz Band

Traditional Worship

8 pm featuring Choir & Brass

Traditional Worship

11 pm featuring Brass & Soloist

Will you or your family be alone on Christmas Eve? Please join the pastors and musicians on Dec. 24 for a potluck dinner at church around 9:15pm. Ham, turkey and meatballs will be provided. Bring your favorite side dish to share! All are welcome.
First Sunday of Christmas
Jazz music at 8:20, 9:45am and 11:05am on Sunday, Dec. 30