ALL IN-PERSON MEETINGS, GROUPS AND STUDIES HAVE BEEN CANCELLED.
To join any study or discussion online, you can call the church office, see info below or visit our
FACEBOOK PAGE.
We can help you get connected!
Saturdays
MEN'S BREAKFAST meets at 7:30AM, the 2nd and 4th Saturdays of each month online for now. Fellowship and faith stories are shared along with breakfast.
To join by phone (audio only). 346-248-7799 then enter Meeting ID:824 7784 2840 followed by #
Tuesdays
PASTOR'S BIBLE STUDY
Study the sermon text with the pastor at 11:30 in the conference room. Bring your lunch. Your insight might show up in Sunday's sermon!
Meeting ID: 562 178 87, or join by phone with no video 346 248 7799 US Meeting ID: 562 178 873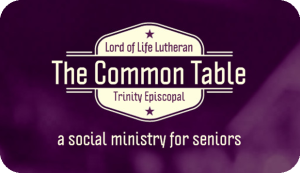 THE COMMON TABLE
A social ministry for seniors (55+).
More Info
Wednesdays (Sept. – May)
LADIES BIBLE STUDY
Library (Rm 21) at 9:45AM. Please come and don't forget to invite your friends. All ladies are invited to attend. Free childcare provided. To get on the email list,
contact Mary Ross
.
Bible Study will meet on Wednesday mornings, from 9:00 – 11:00 during the school year, Sept – May. Facilitated by Crystal Tucker, this group will meet in the Conference Room. Free Childcare. ON HIATUS
THURSDAYS
DRAFT brings Dads together to share fellowship over food and drinks. Currently, DRAFT is meeting periodically over Zoom (typically on the 2 Thursday of each month). To get connected to the DRAFT meetings email Pastor David
Sundays
Interested in Adult Sunday School?
BIBLE, CHRISTIANITY & YOU:
9:30am
Our Lenten Journey: A
six-week examination of all four Gospels from the plot to kill Jesus through the resurrection. We will see similarities and differences provided by this parallel study. Please join us as we prepare for Lent and Easter.
Join via Zoom
or dial in by phone 346 248 7799
Meeting ID: 830 7455 7070
Passcode: 452048
Our goal is to make disciples as Jesus commanded. We define discipleship as one who shares the faith, studies God's Word, actively worships, prays regularly, invites others to follow Christ alongside us, serves in the Name of Jesus, and engages in healthy fellowship. Please let us know if you have any ideas, and/or a willingness to serve. Faith Formation Leader:
Pastor David