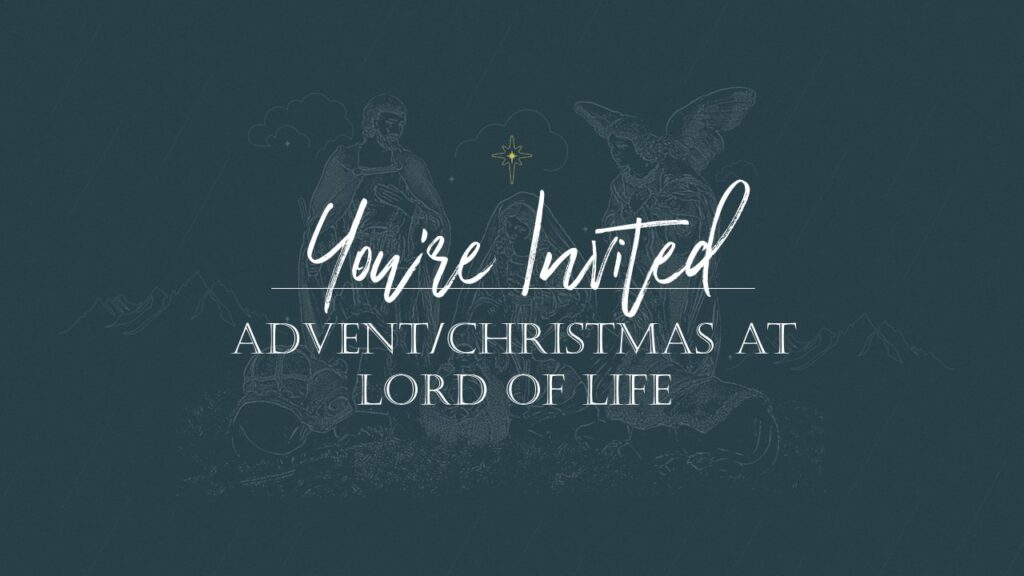 Advent 2022
Meet the Family! Mid-week Advent worship every Wednesday night at 7pm (online or in-person).
Join us for cocoa and cookies after.
Carol Classics – Sing and Ring in the season! Join us for a free concert of traditional carols and festive favorites, presented by Lord of Life choir and bells. Come hear all the beloved classics Sunday, December 18 at 5pm.
Christmas Eve Worship
Saturday, Dec. 24
Traditional Worship 2pm
Family Worship 4pm
Jazz Worship 6pm
Traditional Worship 8pm
Sunday, December 25 – one worship at 10am
Lessons & Carols with Holy Communion
Worship in your jammies (here in person or online)
Christmas Worship BINGO!
Sunday, January 1 – one worship at 10am
OUTREACH OPPORTUNITIES
Adopt-A-Senior for Christmas. Thank you for adopting a senior this Christmas season! All spots have been filled.
Provide gifts for children in foster care with Upbring (a Lutheran Social Services organization). See gift requests, as well as specific directions on how to return them by Sunday, Dec. 11 at 11am by clicking here.
Interfaith Toy Drive
– Provide new toys and gifts for children and teens. Unwrapped gifts can be brought to the toy collection box by the Welcome Center by Sunday, Dec. 11. Consider gifts for tweens and teens who are often overlooked in toy drives. Some ideas are Astros/other team gear, flat/curling irons, Bluetooth speakers, and alarm clocks.
Click here for more gift ideas.
Seafarer Boxes:
Fill shoeboxes with handy items/gifts for sailors traveling through the Port of Houston this holiday season. Specific directions and ideas can be f
ound here
. Drop off in Welcome Center at Lord of Life on Sunday, Dec. 18. Need a few extra items or have something that didn't fit? Leave/take what you need from the basket on the table.
Annual Breakfast to support Harvestwood Senior Living Community. Sunday, Dec. 11 in the fellowship hall. Starts at 9:15 and goes until 12:15.Free Will Donations Accepted!
Harvestwood is a low-income senior living facility just around the corner from Lord of Life. Each Christmas Lord of Life hosts this breakfast to raise funds that will go to buy gifts for the residents. For many residents, this will be their only Christmas gift this year. Our goal is $75 per resident. We hope you'll join us for great food and supporting our neighbors!
Toiletries for the Homeless – As you travel during the holidays, don't forget our collection of mini toiletry bottles. The Homeless Ministry makes kits for the Salvation Army to distribute in Conroe. Bring any hotel toiletries you did not use, unopened, to the red bin in the Fellowship Hall. Want to pack kits for Montgomery County unhoused once a month? Email JMcKenna@LOLonline.org.