HOLY WEEK 2021 AT LORD OF LIFE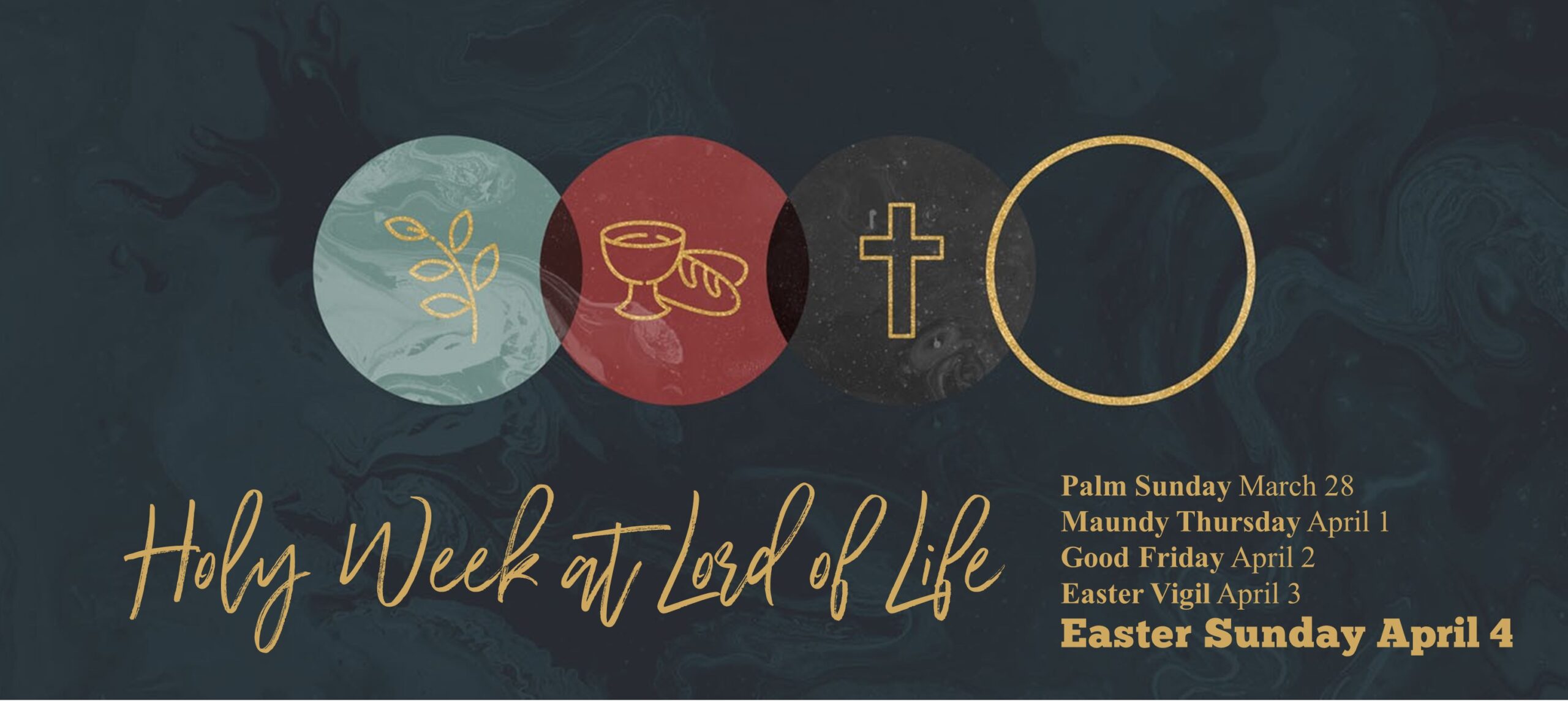 MASKS AND PRECAUTIONS REQUIRED AT ALL IN-PERSON EVENTS.
Palm Sunday is March 28
We celebrate Jesus' triumphant entry into Jerusalem.
8am * 9:45 * 11:20am in person, on
Facebook
or our
website
Maundy Thursday, Thursday, April 1
Commemorates the Last Supper of Jesus Christ with the Apostles.
Stripping of the Altar 7pm in person, on
Facebook
or our
website
Good Friday is Friday, April 2
Commemorates the crucifixion of Jesus and his death at Calvary
Noon in person and 7pm in person, on
Facebook
or our
website
Easter Vigil Saturday, April 3, 11am to 9pm
The Easter Vigil begins our celebration of the resurrection of Jesus with a recounting of previous acts of God. Watch our
Facebook page
every hour from 11 am to 7 pm to hear an Old Testament reading and see an image related to that reading.
Easter Egg Hunt Saturday April 3 at 10 am.
Meet at the church for donuts and juice before we head over to the park to collect Easter eggs and raise money for God's Global Barnyard.
Kids, bring your "God's Global Barnyard" piggy bank if you've been collecting change!
Easter Sunday is April 4
Celebrates the resurrection of Jesus from the dead and his victory over sin and death.
All worship will be livestreamed and will include communion.
If you are livestreaming, we invite you to provide your own bread and wine/grape juice.
LORD OF LIFE'S HEALTH PROTOCOLS:
We have been and continue to monitor vaccination rates, hospitalizations, and other critical data points for the health and safety of our community.
At this time, we are continuing with all procedures that are currently in place. Masks will be required at all times when in the building. Social distancing is required in the sanctuary and other spaces. Temperatures will be checked and a sign in sheet will be used for potential contact tracing at all events.
The Governors recent order (EO GA-34) grants authority to private businesses and institutions to require face coverings or other hygiene practices as they see fit. As the Body of Christ gathered at Lord of Life we take these actions out of love for our neighbor and a desire to continue the trend of lowering cases of the COVID virus in our region.
If you have additional questions or concerns you may contact the pastors, council president (Joe Cox) at 713-614-6544, or the church office at 281-367-7016.