By Debbie Cox
LOL Member and Meals On Wheels Volunteer
About six years ago I decided to devote some of my time to an important service in our community and decided to focus on Meals on Wheels. Many seniors in our community are unable to easily leave their homes & a daily meal is important to their well-being. Seniors 65 years and older can be part of the program that provides a nutritious lunch & a friendly face to talk to during the week. Volunteers cover many areas of Montgomery County and deliver on routes throughout the area. Since I have had the same route for years, I have gotten to know my senior friends quite well. I find God's love & grace in each person on my route and they have touched my heart in various ways. The 2 hours I devote each week to Meals on Wheels has enlightened my heart, thinking, and provided new friendships. I truly look forward to delivering each week.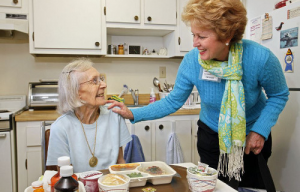 About 4 years ago, I decided to organize volunteers from Lord of Life to deliver Meals for area seniors. Many giving people from our congregation have served on our route. Currently we have two couples & two individuals that deliver meals.
If you are interested in joining our team, contact Debbie at

dacox11638@gmail.com

. You would need to be available on Tuesdays from 10:30-12:30 and would deliver about once
a month in an area near the church.
This is an excellent opportunity for families, grandparents and retired couples.
Have fun and exercise while you perform community outreach.
Deliver Meals and Smiles!