Outreach – Needle Arts at Lord of Life
Sewing/Quilting
Ruth Ann's Remnants
For over 30 years, LOL quilters have made quilts for Luthe

ran World Relief to be used as warm bedding, simple tents or floor coverings in natural disasters or war-torn countries. No sewing experience required. You can even work from home! They meet the 2nd and 3rd Thursday each month at 10am, Room 25 upstairs.
FOR MORE INFORMATION, CALL OUR CHURCH OFFICE AT 281-367-7016 or Colleen Bourgeois @ 713-628-3415.
Donatable items: cotton fabric, new or gently used sheets (any size) and embroidery floss.
Sewing/Quilting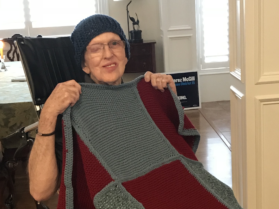 Sew It Wednesdays
2nd & 4th Wednesday of every month at 11:30 upstairs in the library/Rm 21. To commission a prayer quilt or sign up contact the church office at 281-367-7016 or LOL@lordoflifeonline.org
No sewing skills required. There are jobs for all levels.
In addition to making quilts, Sew It Wednesdays will include knitting or crocheting baptismal blankets, knitted hats for seafarers, and knitted hats and blankets for preemie babies. This group meets the 2nd and 4th Wednesday in the Library/Rm 21.
We are in need of crochet thread and white yarn as well as fabric. Items can be dropped off at the office., 3801 S. Panther Creek Dr. in The Woodlands.
Sewing/Quilting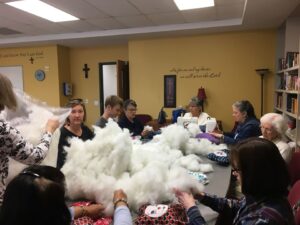 Hug A Bears:
Make stuffed bears for scared and hurting children.
1st and 3rd Thursdays of every month at 9:30, upstairs in the Library/Room 21
Do you crochet, knit, needlepoint, embroider, cross stitch, sew or would like to learn? Join us Wednesday nights in the Welcome Center from 5:30 to 7pm for fellowship, prayer and needlework of all kinds. Questions? Call Natalie Harvey (832) 297-3822