9/24 UPDATE:
Lord of Life Members,
Our Senior Pastor Call Committee has completed their work. We give thanks for their hard work and dedication to their task.
It is now time for us to meet to vote on their recommendation.
The meeting will be held at Lord of Life Lutheran Church Sunday October 17th at 12:00 pm. This will be an in-person meeting and voting will be by ballot only with a vote of yes or no.
Meeting Agenda • Consider extending a letter of call to Pastor David Bauser in the role of Senior Pastor of Lord of Life Lutheran Church. A two thirds majority is needed to approve this call.
Please try to be in attendance and participate in this important decision in the mission of our church.
Yours in Christ, Joe Cox,
Lord of Life Council President
8/12 Update from the Senior Pastor Call Committee
We continue to make progress toward interviewing our first candidate for the job of senior pastor, We received his rostered minister profile and are in the process of reviewing. The committee anticipates doing a formal interview sometime within the next 2 weeks. We are grateful for your prayers and hope that our conversations with the candidate are fruitful.
Questions or comments about the call process? Email us at LOL@LordofLifeOnline.org
Scroll down to see members of the call committee and synod information to understand the call process.
7/22 Update from the Senior Pastor Call Committee
It is with great pleasure we announce that the committee has effectively finished the Ministry Site Profile. We will send this document to the church council and after their approval it will be forwarded to the Synod office for their review. This will help us recruit the best senior Pastor candidate. Our next step is to draft questions for the pastoral candidate and perhaps Pastor John will be available for a practice interview. Please pray for us as we continue this journey.
Questions or comments about the call process? Email us at LOL@LordofLifeOnline.org
Scroll down to see members of the call committee and synod information to understand the call process.
7/07 Update from the Senior Pastor Call Committee
We are progressing towards completion of the Ministry Site Profile. This weekend is the last time a member can respond to our survey either on-line or on paper (available in the Welcome Center). Results will be compiled next week. We have also contacted church council for budget info, as well as our synod representative the Rev Tracy Breashears Schultz regarding the interview process. Please continue to pray for us.
Questions or comments about the call process? Email us at LOL@LordofLifeOnline.org
Scroll down for a link to take the survey, meet members of the call committee, and synod information to understand the call process.
6/23/21 update from Call Committee member Jim Meszaros:
Great progress has been made towards completing the MSP( Ministry Site Profile). We have compiled a 10- question survey which we intend to present to the congregation for feedback which will help us complete the MSP. There are hard copies for members to pick up and answer available. The questionaire is also on line so we can get as many responses as possible. TAKE THE SURVEY
Pray for our group and the work ahead.
5/26/21 update from Call Committee member Jim Meszaros:
We have gathered seven folks headed by Nick Brown. Our first meeting was with council president Joe Cox and Pastor John, our interim pastor, to get some direction. Our main focus is completion of the ministry site profile which will help us in determining our need as well as something a new candidate could use to help them determine if this church is for them or not. Questions or comments about the call process?
Email us at LOL@LordofLifeOnline.org
Meet our Senior Pastor Call Team!
Elizabeth McPherson
My husband, Keith, and I joined Lord of Life in 1993 after "shopping" the area for our new church home. Here we found the Spirit of God within the congregation, which IS the church. Through all the changes we have seen at Lord of Life over the years, my love for all of you has remained constant. I have served in many roles here over the years, my most recent being part of the stewardship and capital campaign teams, and scheduling assisting ministers and communion assistants for the 8:00 and 11:20 services. I grew up in the Methodist church, Keith was raised Baptist, and we met at the Catholic university we both attended. The ELCA offers us a comfortable place to worship with our blended theological understandings, but I believe God speaks to many in other cultures and religions as each of us, like Paul, only "know in part; then [we] shall know fully, even as [we are} fully known." (1 Corinthians 13:12) I look forward to serving God and our church as I can through the upcoming call process.
Jim Meszaros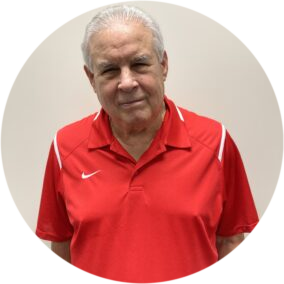 I have been member at Lord of Life Lutheran Church for 21 years and married to my lovely wife Dorothy for 56 years. I am retired but do volunteer work for veteran's groups especially for vets who need support for private health issues. I coordinate the annual Veteran's Day Service with other congregations. I enjoy playing golf and chasing my five-month-old pup named Sophie.
Nick Brown
I was first brought to Lord of Life by my wife, Liz, and have been a member since 2010. We have 3 young children, Conor (7), Cora (5), and Reagan (2), all of whom have gone – or will go – to Kids of the Kingdom. My background is in finance and for the past several years I have been one of 3 partners in an independent financial planning firm on the north side of town. I am hopeful that experience will translate well as we begin the process of seeking a new Senior Pastor. I am very excited to hear the congregation's input on who should lead us moving forward and to help find the right person to fill that position!
Jocelyn Earnest Heckler
I am proud to call Lord of Life my home for as long as I have lived in The Woodlands, which is about 7 years. My amazing husband, Evan, and I have 4 children: Ayda (8), Cora (6), Rose (3), and Margot (10 months). We are very involved in Children's Faith Formation, and you can usually find me in the KOK wing teaching Sunday School and at most of the LOL activities geared towards families with younger children. I am excited to be part of the Call Committee so I can give back to the congregation that has done so much for me and my family, and to pay it forward for all the kids in the church that so have come to know and love so much over the years. We are a village!
John P. Fackler, Jr, Ph.D.
My wife Naomi and I moved to The Woodlands from College Station in late 2014 where we had been members of Our Saviour's Lutheran Church. We transferred to Lord of Life where our son John M. and his family are members. We quickly joined the LOL choir and became involved with church activities. We were parents of five children, one now deceased. Naomi died in 2018. We chose to live in a cottage at The Forum of The Woodlands. I was born in 1934 in Toledo, Ohio, the son of a Lutheran pastor. Naomi's father also was a Lutheran minister, so we had strong connections with the Lutheran Church. We were both graduates of Valparaiso University in 1956. I completed my PhD in chemistry at M.I.T. in 1960, taught at U.C. Berkeley (1960-62) and Case Western Reserve before coming to Texas A&M University as Dean of the College of Science (1983-92). I served on the church Council and was President of the at St. John's Lutheran in South Euclid, OH. I also served on the Board of the Cleveland Lutheran High School Association as member and chair. At Our Saviour's I served on the Council and was President of the congregation. I also served on the initial ELCA Lutheran Campus Ministry board at A&M (Treehouse) as Vice-president. I have enjoyed seeing young people develop with a love for God and His world. Professionally, I have advised 32 PhD, 40 postdoctoral and many undergraduate research students, published over 375 papers and edited a journal and over 20 books, and have lectured about my research interests world-wide. Locally I am a member of Woodlands Rotary Club, the LOL choir, the adult Faith Formation committee and the Council of the Resident's Association of the Forum where I have also served 3 years as President. I love playing golf, our Sunday morning LOL bible class, and watching my two local grandchildren (of nine) develop. I look forward to helping the congregation identify a successor to pastor Gary Heath.
Carol Hoffland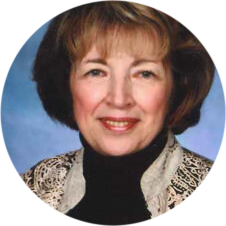 As the daughter of a minister my early childhood memories include observing my father (and mother as choir director and organist) gathering a large congregation into a quiet, reverent assembly. All my life, I have had great respect for their leadership. As an adult, when I became a classroom teacher of Senior English students, my parent's example of patient and loving leadership helped to guide me through some challenging experiences. For thirty years, occasionally working with some very difficult personalities, I needed to recall my father's unwavering dedication for my own inspiration. Following my retirement three years ago, I often reflect on various experiences from my classroom with humor, happiness, and pride. While I want to say to myself my lesson plans were perfect and my students all acquired an outstanding education, I cannot. That would be hyperbole win the extreme. However, I was consistent with love and concern for their success, and I attribute this to the influence of my parents. I am so grateful for the beautiful Christian guidance I received from my father's church.
Karoline Strauss
I was born and grew up in Germany and was baptized into the Lutheran church as an infant. I attended the Lutherkirche in Rüsselsheim and later immigrated to the United States as a young adult. I met my husband, Robert, in Houston and we made our home in the Woodlands in 1993. Together, we have 6 children and 16 grandchildren. In January 2020, Robert and I started attended services at Lord of Life Lutheran Church and felt welcomed and embraced. The spirit of love and joy, and the openness and acceptance for all to come to the Altar impressed us, and we felt the call to return. After connecting with Pastor Gary and Pastor David, joined the congregation and became official members in October 2020. I am looking forward to serving on the Call Committee with God's help, seeking His will through prayer and scripture and the Holy Spirit.
---