Nicole Forester – Director of Children's Faith Formation Office Ph. 281-367-7016 , ext. 113 or 570-412-2744 (cell).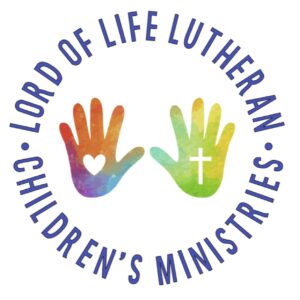 Join us at 9:45am on Sundays for Sunday School & Club 56!
Sunday School for all 3-year-olds through 4th grade gathers in Kids of the Kingdom room 1

Club 56 for all 5th & 6th graders meets upstairs in room 26
Snack Drive for Sunday School & Club 56: We are collecting non-perishable snacks through August 27th to offer during weekly Sunday School & Club 56. Bulk & individual snacks can be dropped off in the church lobby! No fruit snacks or candy please!
Music, Meals and More returns Wednesday August 23 @ 5:45pm: Everyone is welcome for dinner starting at 5:45pm with children's music practice following at 6:30pm. There are several opportunities for children from 4 years old to 6th grade to participate in the music program. Please sign up here!
Age 4 – 1st grade choir will start with singing and end with games, percussion and movement (6:30-7pm)
2nd – 3rd graders will start with chimes and end with singing (6:30-7:45pm)
4th – 6th grades will participate in Joyful Noise, the children's handbell group (6:30-7:15pm)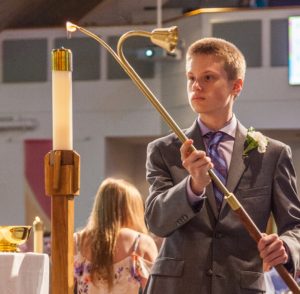 Interested in serving as an Acolyte during Sunday worship services?
Children's Faith Formation Upcoming Dates
9/10: God's Work Our Hands Day – we will have Sunday School
9/17: 3rd Grade Footsteps "What's in the Bible" Pt. 1
9/24: 3rd Grade Footsteps "What's in the Bible" Pt. 2 & Recognition
10/1: Blessing of the Pets 2-4pm (Blessing @ 3pm)
10/8: No Sunday School or Club 56
10/14: 5th Grade Footsteps "Communion" Pt 1
10/29: Trunk or Treat 4-6pm
11/5: 2nd Grade Footsteps "Prayer is …"
11/12: 11am Service: Club 56 leads worship & 5th
Grade Footsteps Recognition
11/19: No Sunday School or Club 56
2024 Family Camp @ Lutherhill will be 2/2-2/4/24
Join our Remind groups and never miss an event!
(If you have the Remind App on your phone, it's easiest to join that way.)
Footsteps in Faith for Children
Footstep events take place at various times throughout the year. For kids from birth through grade 5.
The Footsteps in Faith program provides opportunities and tools for children and parents to deepen their faith and renew their commitment to faith education and their church community. Kids complete faith journey milestones which entail attending learning events and receiving congregational recognition and blessings. Dates and times are listed below. closer to the time of the class, additional information will be emailed to families.
Kindergarten: The Greatest Commandment – 8/27/23 at 9:45am
1st Grade: The Lord's Prayer – 2/25/24 at 9:45am
2nd Grade: "Prayer is…" – 11/5/23 at 9:45am
3rd Grade: What's in the Bible – 9/17/23 & 9/24/23 at 9:45am
4th Grade: Baptism – 1/21/24 at 9:45am
5th Grade: Communion – Part one is 10/14/23 at 10am and Part two is 11/12/23 during 11am worship
6th Grade: Ten Commandments – 2/4/24 at 9:45am
Children's Faith Formation Committee: Pastor David Bauser, Kathy Gaskampt,
Lord of Life Lutheran Church's policy for creating a welcoming and safe environment for everyone.
All church members, employees, volunteers, and visitors have the right to pursue their activities free from all forms of discrimination, mistreatment, and/or harassment, which include sexual harassment, exploitation, abuse, and sexual misconduct. It is in the spirit of creating an open and secure atmosphere for all God's people that LORD OF LIFE establishes a policy and procedures to effectively carry out this mandate as well as a committee to provide oversight and assistance.
READ MORE HERE.