Get to know the newest members at Lord of Life.
What can you do to be welcoming?
Invite them to join you.
Include them in your conversation.
Ask questions.
Pray for them.

Kerry Carpenter – I was raised in Los Angeles, and have since lived in Missouri, Florida, Utah, and Texas. After 16 years as a school nurse, I recently began teaching high school students to prepare them for national certification as clinical medical assistants. I love animals, plants, books, coffee, baking, and eating. I've been vegan for about 7 years. I am grateful to have found this caring community at Lord of Life. It's awesome to always look forward to being here!
Erik & Alex DeHaven, Wren, Walker
–
We have lived in The Woodlands area for almost 5 years and are blessed to have found our home church at Lord of Life. We enjoy spending time together as a family, eating good food, and everything football. We look forward to continuing our faith journey with our LOL family.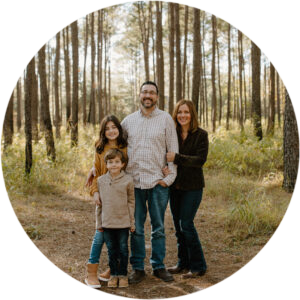 Mike & Tara Devoley, Sophie, Luke– Tara and I are from the Chicago area and Arizona, respectively, but met at Northern Arizona University. Our kids were born here in Texas! We both work at Lone Star College – Montgomery campus, where I teach Psychology and Tara is an Academic Advisor specializing in college transfers. We have been married for almost 20 years and "Texans" for 18 of them. We live in Harper's Landing and love going for walks with our dogs, camping/hiking in Huntsville State Park and road-tripping to other state and national parks. We look forward to getting to know you through small groups and other church activities.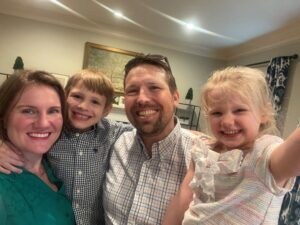 Erin & Andris Dikmanis, Ethan, Isla – We are originally from Long Island, NY but have called the Woodlands home since 2014, when we also started attending services at LOL. Erin is a research scientist at HARC in the Woodlands and Andris is the Director of Sports Performance at the John Cooper School. As a family, we love to cook and to play outside, either lacrosse (which Andris also coaches), soccer, swimming, or exploring the trails around the Woodlands. We are looking forward to being more active in the LOL church family.
Alison & Luke Stephens, Jack, Jude – We are originally from Southern Indiana but have called Texas home since 2010. We moved to the Woodlands in Fall of 2022 after living in Corpus Christi for a few years and are so thankful to have found a church home at Lord of Life. We loved the warm welcome, messages of inclusivity, and our kids were won over by the Easter Vigil that included s'mores over a campfire. Luke is a Chemical Engineer and Alison is a Pediatric Nurse Practitioner. On the weekends you can find us at our kids soccer games, road biking, running, and trying out all the fabulous restaurants in the area. We look forward to getting to know everyone.
Chris & Whitney Terrell, Russell – Originally from Georgia, we moved to the woodlands area in January and are delighted to have found Lord of Life. We welcomed our son Russell to our family last September.

Linda Metz – I was born and raised in Cleveland, so this is a new adventure for me here. I moved to Texas in October of 2019 from Cleveland, Ohio to care for my brother who had suffered a stroke. I was blessed with 3 children, two daughters and a son. My faith became stronger when my son at the age of 12 was diagnosed with a brain tumor. My faith got me through his illness and when he went to heaven 9 month later. I have one daughter and granddaughter who live in Cleveland and one who lives in San Diego. I enjoy spending time with them when I travel to see them. Between taking care of my brother, I am still trying to find a life here. I have made the first step by becoming a member of Lord of Life.
Amie & Macy Cherry
–
Amie grew up in Sugarland and Macy grew up in a small town in East Texas called Carthage. We enjoy playing games, bird watching and anything outdoors.
Cynthia "Cindy" Brunswick – I look forward to meeting the Lord of Life community.
Recently, I relocated to Houston from Chicago to be closer to family and an for awesome job opportunity. As a life-long educator and Lutheran, I am excited to share this part of my journey with you.
Laura Ammons & Michael Heilers –
Mike and Laura enjoy travel and hiking in nature. We are both very deeply spiritual and love to share our experiences of God and Christ. Laura enjoys her calling as a hospice chaplain and Mike loves to help people at CVS as a manager. Together, we share 3 sons and a daughter, 6 grandchildren and 3 cats.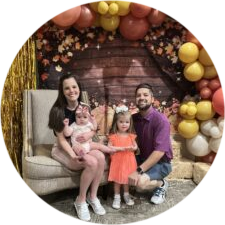 Megan, & Mark Johnson, Jillian and Julia – We moved here from Lafayette, LA after we married in 2018. We have two daughters – Juliet (2-1/2) and Jillian (8 months). Mark works as a branch manager for United Rentals and I am a former Pre-K teacher but now I am a stay at home mom. We spend our weekends visiting friends and family, playing golf (Mark), shopping (Megan) and we love spending quality time with our two girls.
Erik Miller – I moved from southern New Jersey to Cypress, Texas in 2008. My faith journey started in 2006 at a tiny NJ church named Good Shepherd. I attended Messiah Lutheran church in Cypress until 2018 when I moved to Magnolia and found Lord of Life. I am a Project Manager for ITT/C'TREAT in the Woodlands which makes water desalination equipment for offshore applications. My hobby is being a mechanic to my two vintage show cars (1969 Mustang Mach I & 1956 Mercury Cougar). I look forward to meeting those I have been attending worship with for a few years now.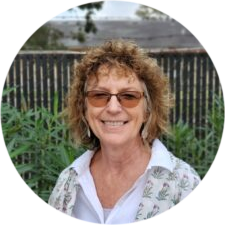 Victoria Constance –
I was born in Pittsburgh PA, and raised Catholic. I have had a deep spiritual/faith journey my entire life and have been deeply blessed to have been a guest at LOL since March of 2021.
My family moved to Missouri and I completed graduate school at the University of Missouri-Columbia. I met my former husband in the sociology department and we had one son. Our family moved to The Woodlands in 1997, and in 1998 I became the Executive Director of Children's Safe Harbor, where I will celebrate my 24th anniversary of service next month.
My son married and lives in Magnolia with my daughter in law and 4 beautiful grandchildren. I love to garden (I live on a 1/3 of acre and have fruit trees, and several organic raised beds of vegetables). And I love to cook and share my garden with friends, neighbors and family! I also love music, singing, conversation, laughter and reading all kinds of genres. I also have a spiritual coaching practice where I am blessed to share and offer the grace and healing that God has so generously offered me throughout my lifetime.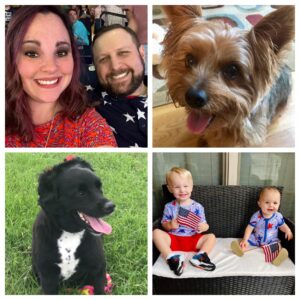 Michelle & Jordan LeBouef family –
We are from Lafayette, Louisiana, and we just moved to The Woodlands, Texas area last year. We have been married for 9 years. We have two beautiful boys: Jackson (2) and Carson (1), and two loud and loving dogs, Sassy and Minnie. We are enjoying every aspect of Texas living. We were members of First Lutheran Lafayette (ELCA) Church in Louisian, where we really rediscovered our faith and love in Christ. We are very thankful to have found such a wonderful, welcoming, and loving community at LOL, and we cannot wait to see what the future holds for us here. Thank you all for welcoming us with big, open arms, and we cannot wait to get to know each and every one of you.
Stan & Rosalie Tuttle – Marri
ed for 46 years and are both retired. Relocated here from Illinois in December 2020 to be closer to their two children, their spouses and five grandchildren. Stan was in the Army for 20 years, then worked in K-8 education and higher education for over 25 years. Rosalie was in the Army and Army Reserve for 20 years and has worked in nursing for more than 45 years. They have always been active in whatever church they have attended and look forward to being involved in the activities here at Lord of Life.
Diane Meier –
Married and a mother of three. Taught in New Hampshire for 10 years and then another 24 years in Klein School District. Enjoys tent camping, hiking, and the ocean. Spends summer in New England visiting with family. Loves to be with people.
Debra Leone Retired as a Pastor from Redeemer Lutheran Church in Grenville, TX. Moved to the Del Webb community where she enjoys playing games and cards. Widow of 13 years. Born and lived most of her life in Chicago and the suburbs. She and Paul raised 5 children. Moved to Missouri where they lived for 11 years. After her husband's death she relocated to Greenville, TX and served Redeemer for 11 years. Mother of 5, grandmother of 7 and great-grandmother of 2.
Moira & Chris Cortelyou, Kyla & Maya
Linda McKimmey
I'm a recently retired widow and have moved to this area to be close to my daughters. I enjoy doing puzzles and reading. I'm looking forward to getting involved in some of the church activities.
George and Marilyn Posey
Both of us grew up on farms in Texas and were high school sweethearts. We have been married for 60 years and we have three children. George graduated from Texas A&M and pursued a career in oil & gas working for Enron and its predecessor companies. Marilyn graduated from Texas Women's University in Denton and taught high school homemaking at Bellville High School and New Caney High School.
We have always been active in church such as Women's Circle and Children's activities. We have also been active in Meals on Wheels, delivering meals in NW Houston area for about 30 years. We enjoy the fellowship of a cooking group and meet Sunday afternoons. We have been doing this also for about 30 years. We are involved in an initiative that supports children's scholarships and women businesses in Africa.
Some of our pastimes are traveling, and Marilyn enjoys working in the yard, growing flowers to support bird habitats. In addition, we belong to a book group and enjoy reading historical fiction.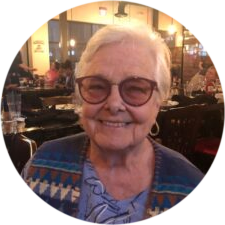 Barbara Maurice
I was born in Philadelphia and grew up mostly in Tucson, AZ. It is a small world. As I was attending Ladies Bible study here at Lord of Life, I met someone from a very small town near Sedona, AZ. It is the same rural area I came from. My husband Nils and I were married for 44 years before he passed away. I moved here to be close to my daughter, Rita, who lives here in the Woodlands. I hope and plan to move into the Village at the Waterway when an opportunity is available there. I helped raise Niles' four daughters and my reward is a group of sons-in-laws and 10 grandchildren who I love dearly. Speaking of love, I can honestly tell you I love my new church, Lord of Life! It was hard to leave Arizona and I miss the beautiful views. I am now getting adjusted to viewing the forest and trying to figure out what's behind all the trees.
Ted, Teddy & Maria Krein
Ted was born and raised in the province of Edmonton, Alberta Canada. In his pursuit of higher education, Ted found himself at Tulane University in New Orleans. Upon completion of grad school, Ted moved to The Woodlands for work and met his true love, Maria. Together they have one son, Theodore (Teddy) William. In his spare time Ted likes cooking, golfing and hunting.
Maria is a Houston native, growing up in the Tomball area. She graduated from Sam Houston State University with a degree in History and now teaches 8th grade U.S. History at Tomball Junior High. Her life passions are teaching, spending time with her husband and son and traveling. Ted and Maria are excited to grow in their faith and to be joining Lord of Life church.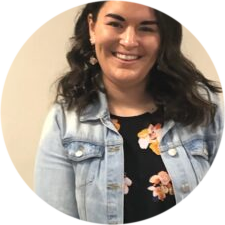 Theresa Sievert
I am from Spokane, WA and moved to Houston in 2018. I grew up as a Lutheran and I'm excited to continue my faith journey at Lord of Life. I am a biomedical engineer for a medical device company and outside of work I love to travel, hike and be creative.
Valerie Oden
I am a life-long Houstonian and Lutheran. I am a charter member of
Advent Lutheran.
I have 4 daughters and 5 grandchildren. I enjoy cooking, reading, and spending time with my grandchildren.
Kathy Burns
I was born in Buffalo, NY and moved to Houston in 1980 for a teaching job. I retired in 2008 but I have been a tutor for 13 years. I enjoy gardening, cross-stitch, reading, tutoring math, and babysitting my grandchildren.
I was active in my kids Scouting endeavors, sports and choir. I have been active as a worship assistant and served on council at
Hosanna Lutheran
for many years.
CAROL GHENT
I was raised in Ann Arbor, Michigan where I was a fifth-generation member of Zion Lutheran Church.
My future husband, Jim, and I met as students at Michigan State University. Besides a trip to the altar, my time there also prepared me for a career in graphic design and advertising.
We were blessed with two daughters, Kelly and Jennifer who now have families of their own including our 5 grandchildren. Having shared 41 years of marriage, Jim passed away in 2009). In 2015, by sheer coincidence, both daughters' families moved to The Woodlands (one from MI and one from OH). I followed in 2016 and we now live within 3 miles of each other and enjoying the Texas life.
I enjoy the challenges of TX gardening and dabbling in watercolor.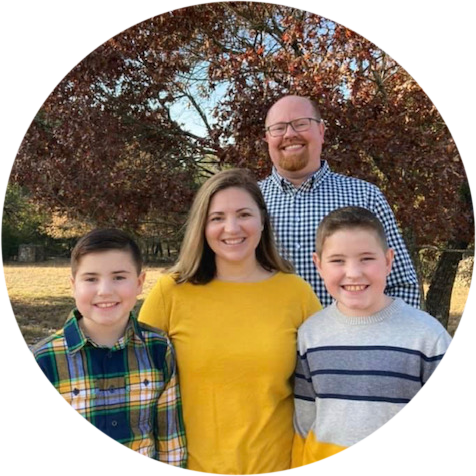 WE ARE THE FIELDS FAMILY!
Kirk, Lindsay, Zachary and Andrew.
We have lived in the Spring for 6 years and we are excited to have found a church home at Lord of Life.
I am originally from Shreveport, LA and have lived in the Houston area since I was a small child. I have one daughter, married, and an 8 yr old grandson. They recently moved to Goldthwaite, TX. I am the accounts payable specialist for a custom home builder in Spring. I've been with them almost 4 years. My hobbies and interests include: spending time with family and reading. I am a member of women's non-profit charitable organization. We support children in Houston and surrounding areas.
We grew up on the East coast of central Florida where we met in high school.
We settled in Houston where our family grew with 2 childrend and a goldendoodle. We love spending time outside at parks, playgrounds, and pools.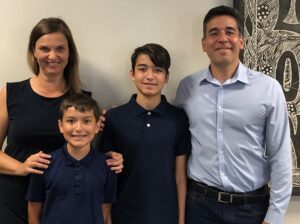 Osmar, Katja, David & Victor Bastidas
Osmar was born in Venezuela and Katja was born in Germany. They met in Houston in 2004, married and had two children, David and Victor. The live here in The Woodlands in Panther Creek.
Their son David will be entering 7th grade at Knox Junior High and Victor will be entering the 5th grade at Collins Elementary this fall.
Osmar works in the Oil & Gas industry and Katja works as an Educational Diagnostician and will be joining the Magnolia ISD this fall.
The family loves to travel. Other interest are music, soccer, tennis and hiking.
Bill & Sue King
Bill & Sue are native Coloradoans. Bill is from Denver and Sue is from Fort Collins. They met while attending Colorado State University, and recently celebrated their 50th wedding anniversary.
Bill is a retired engineer and Sue is a retired Pre-K, Kindergarten teacher.
They are blessed with three adult children who live in Friendswood and Webster along with their 8 grandchildren.
Hobbies include gardening, road trips, and spending time with family.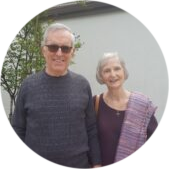 Ron & Heda Christ
Ron is retired from accounting and finance. Heda is a retired RN, born in Germany and came to the US when she was 12 years old. They have been married for 34 years and met teaching Sunday school. They raised a blended family of 5 children. They served together as missionaries for two years in Southern Africa with the ELCA. They look forward to the Fellowship and outreach programs at Lord of Life.
Tara is a native of The Woodlands and recently relocated back to The Woodlands from the Montrose area.
She is currently working to become an AVA (Approved Veterinary Assistant) and employed as a Kennel Technician.
Outside of work she likes to walk her rescue pup, Hannah. Other activities are working out, strength training and running; baking & cake decorating; cooking and home organizing.